We are offering our clients with venturi Pollution Control Equipment scrubbing systems that are used for effective gas cleaning even with wide flow variations with minimum pressure drop. Delivering desired performance with effectiveness, these systems are reckoned for the following benefits:



High collection efficiency of 97% and above


Maintenance free as designed in stationary part


No evaporative liquid loss .


Adjustable throat to suit specific application


Available in M.S., S.S., P.P and FRP material


Capacity from 500 MCH to 60,000 MCH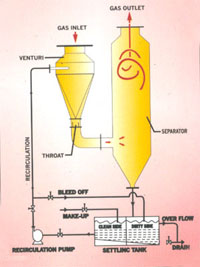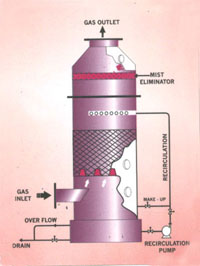 These systems are operated in the following manner :

Dust laden gas enters the system through gas inlet


Scrubbing liquid is introduced on the wall through split jet nozzle


Gas and liquid are thoroughly mixed in the venturi throat


Gas with entrained solids and liquids enters separator


Liquid flows downward with solid and dissolved gas to slurry settling tank


Cleaned gases are exhausted to atmosphere through a top gas outlet

We are also offering our clients with packed bed scrubbers that find extensive application in chemical processing applications for gas and odor absorption and fume control.



Suitable for reducing environmental pollution, these scrubbing systems consists of typical re-circulatory spray header system for effective scrubbing of gas and mist eliminator for recovering fine liquid mist from exhaust gas.



Designed to remove water/liquid, soluble gases and fumes, air borne dust and odor generated through the recovery systems, these scrubbers can scrub 99% gas passing through huge contact area in pole ring stack at lower pressure drop.



These systems are equipped with gas inlet pole ring stack mist eliminator gas outlet and spray header assembly with spray nozzle and re-circulatory pump, which makes these scrubbers suitable for places where acids and alkalis are processed.



Fabricated using FRP, stainless steel or mild steel, these packed beds scrubbers are ideal for application in chemical, pharmaceutical and textile industries.